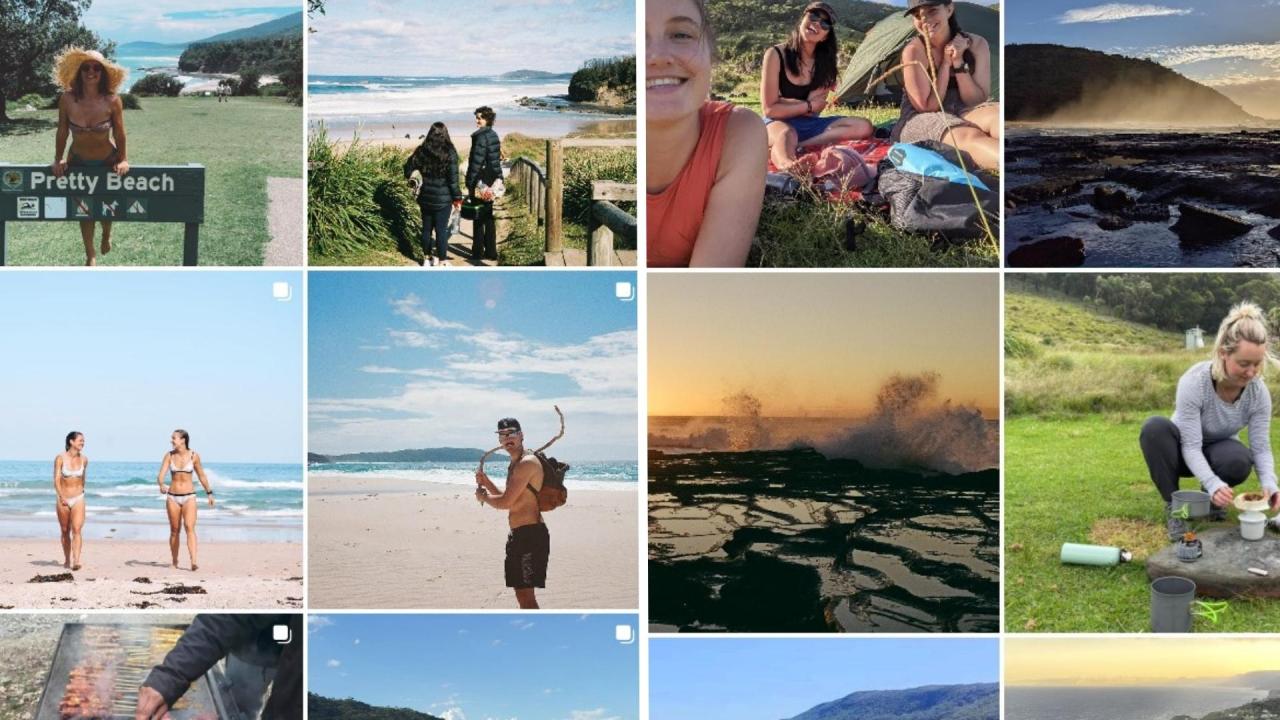 Aussie campsites that are still available this Easter? It's not a myth
Didn't you hear? Camping is cool now. 
Unfortunately that also means it's overcrowded. So if you woke up this week and thought to yourself "I wouldn't mind a camping trip this Easter," you're probably out of luck. 
There are a few ways to hack the system though, and score yourself a stunning, 'Instagram worthy' campsite, even as an unorganised mess. You might even get it all to yourself. 
These tips are more important than ever, because high airline prices (and poor service from carriers) have encouraged more people to holiday at home this year.
ACCC statistics show Australia's largest airline has seen 70 per cent more complaints than last year. Reflections Holiday Parks likewise say there is a growing trend of the return to travelling "via road."
Dr Catriona Davis-McCabe, Counselling Psychologist and President at Australian Psychological Society, told Escape this poor service from airlines can impact consumer decisions because: "Positive opportunities or negative events experienced while on holiday can also play a role in your decision-making process."
So to find yourself a cool campsite, despite being late to the booking party, here are 9 tips to help you on your way – and maybe even score a cool campsite completely to yourself.
Keep on top of what campsites are closed (and check when they are due to open)
Thanks to the flooding we've had over the last few years, quite a few campsites and hikes have been closed due to the risk of landslides, or in order to conduct maintenance on paths, fire trails and facilities. But if you keep an eye on your favourite haunts, you might be able to score yourself one of the first days they are open, before everyone realises they are open again.
Check out Instagram 'geotags' of campsites
Not to go full influencer on you, but this is a good way to see if the place you are staying is full retiree spec, or young couple with a drone (and a van with fairy lights) spec. It might not score you a campsite to yourself, but it will help let you know what you're in for.
Be wary if the place looks like it has been photographed from every angle 
If you're simply after a sick Instagram shot, go right ahead and take this as a good sign. But if you're after a nice quiet getaway, then this is your chance to take your non-refundable reservation and run. Sometimes a bunch of dud photos that look like they were taken with a 2005 Nokia (or simply a potato) are a great sign that you are onto a good (quiet) thing.
Use Hipcamp
Hipcamp is the new Airbnb. Except instead of staying in someone's house, you pay to pitch a tent, or park your car, van or caravan on their property (usually a farm). Because it's more expensive than a normal national park campsite (where you would expect to pay between $6 and $24 a night), and because it's a relatively new service, you can pretty much always find a Hipcamp (even if it does mean you have to stay slightly further away from the city centre).
Hipcamp is a great last resort for when an area's normal campsites are booked out. With Hipcamp, you can also usually expect more privacy (although sometimes there will be multiple groups of guests on a property). As a bonus, sometimes there is a river running through the property. The downside? They are a bit more expensive than public campsites (they are typically in the $40 – $120 a night range). 
Search further afield 
If you want to camp at Jervis Bay, on a public holiday, and hope to score a booking just a couple of weeks out, I admire your confidence. Unfortunately, reality is about to slap you around the face like a "no availability for these dates" error message. Instead of going for the most sought after campsites (for Jervis Bay, think Cave Beach and Greenpatch), try your luck a little further afield.
In the case of the South Coast of NSW, there's probably a whole world waiting for you that not only has the bonus of being available, but likely includes places you've never seen before, seeing as they are outside the 3 hour "can't be arsed" radius of Sydney. To continue the Jervis Bay theme (sue me, I'm from Sydney), try Sunset Beach, Meroo Head, Termeil Point, Pretty Beach, the list goes on.
Likewise, if you're trying to visit a hotspot like Byron Bay, then (unless you're booking well in advance) consider an inland alternative like Mullumbimby, or a lookalike (but less crowded) coastal town further up or down the coast.
Find a tiny house
These guys are all over Airbnb. There are also private, boutique Tiny House services and websites running their own gigs. Finally, there is Unyoked, which is like Airbnb for Tiny Houses, and which has blown up all over Australia (and recently expanded to Europe too). Though it's quite a bit more luxurious than camping, the Unyoked experience gives you all the upsides (communion with nature, disconnection from the city) but with a Koala mattress (and pre-mixed Negronis).
Settle for a bigger (sometimes more 'swamp like') campsite
If all else fails, worst comes to worst, and you don't score the campsite of your dreams at Treachery (Seal Rocks), Angourie (Diggers) or Point Plomber (Crescent Head), all of which, by my highly unscientific analysis are ALWAYS booked out, you can normally find space at a bigger, more caravan park-y (or in some cases, marshy) campsite somewhere around the corner (think: Yagon, Sandbar/Cellito, Melaleuca). I've done this many times and still had a blast. Just remember to bring insect repellent if you stay in Melaleuca after a bit of rain.
Try Camplify
If you left it too late to book a cool campsite, and you don't fancy lying awake in your sleeping bag in a hundred person campground, with a bunch of people getting pissed to your right, and noisy kids cycling through your campsite to your left (occasionally triggering the trip wires of your guy lines, and pulling your pegs out in the process), then allow us to introduce you to a type of camping that will help you find all sorts of paradisiacal spots to yourself: Camplify. Camplify is a van rental app/service, where you rent out a fully kitted out van with a bed, kitchen and so on for a few days, and take it on an adventure. It's a great way to find uncrowded thrills.
Realise that there is really no such thing as 'Instagram worthy'
I'll let you in on a little secret: Instagram can make anything look good. So all this fuss about wondering if such and such location will look good on your Instagram feed is a bit of a rort. You're either a good photographer or you're not…