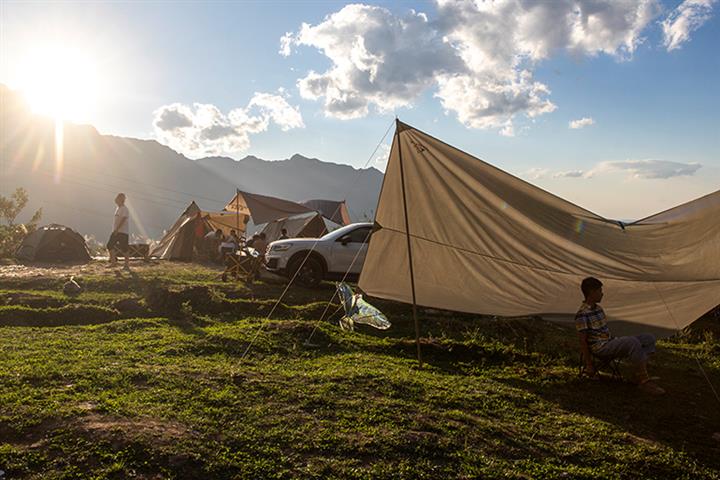 China's Camping Product Sales Jump During National Day Holiday
(Yicai Global) Oct. 10 — Sales of camping equipment, such as tents and frisbees, soared during the week-long National Day holiday in China, as most Chinese people opted for short-distance travels this year because of Covid-19 outbreaks in the country.
Camping equipment sales jumped 215 percent between Oct. 1 and Oct. 7 from a year ago, with portable barbecue stoves, picnic mats, and fishing rods being the top-selling commodities, according to Meituan. Sales of barbecue grills and frisbees skyrocketed more than 10 times in the period, the Chinese takeout behemoth added. Tent and mat sales climbed 72 percent, and picnic supplies rose 77 percent, data from online shopping platform JD.Com showed.
Over the past three years, the online consumption of camping equipment has been increasing its share in the outdoor sports market, according to statistics from Tmall, an e-commerce site under Alibaba Group Holding's online shopping platform Taobao. Chinese-branded goods account for over 80 percent of the total.
Camping sites were in short supply before but have increased over the past year, said Liu Shutong, product director at Shenzhen Yanwai Technology, an exporter of outdoor equipment. Prices of many camping sites are the same or even higher than that of hotel and homestay rooms, he noted.
Besides established brands, many new ones entered the camping market this year, Liu pointed out, adding that a price war is inevitable.
Nearly half of China's 47,000 camping-related companies were established within the past year, and 40 percent of them between one and five years ago, according to corporate information platform Tianyancha. More than 7,200 new camping firms were registered this year, 20,000 last year, and 9,100 in 2020.
Editors: Shi Yi, Futura Costaglione