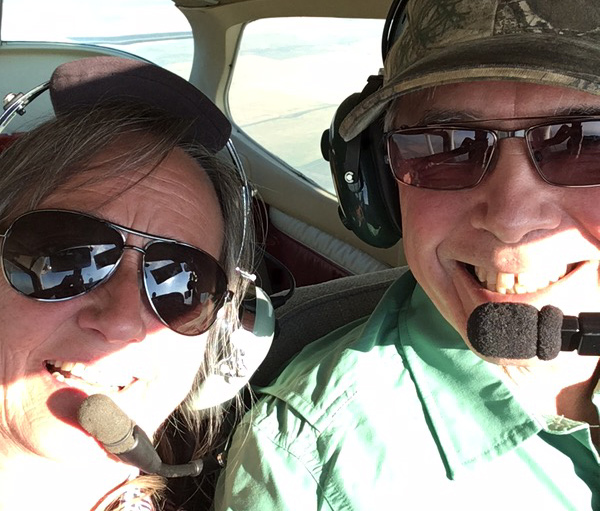 A Morrin family, turned back at the Canada/ U.S. border had a lofty idea and took to the sky.
Darcy Graham tells the Mail, she, her husband Bob, and daughter­­­­ Charly planned a trip so her daughter could attend a drama course in Montana. The course was connected with Missoula Children's Theatre.
"She is going into musical theatre, so she took a two-week course," explains Darcy.
They travelled on Wednesday, July 28.
"We tried to get through the border by car, and they turned us away in a heartbeat, even though education is essential," she said.
However, she said they were deemed "not essential enough."
"They were going to deny us passage no matter what. They didn't even ask us about vaccines or tests or anything," she said.
They needed to come up with a different plan, and an idea took flight. Bob owns a 172 Cessna four-seater, so they loaded it up, including their family dog, and took off. They flew over the Crowsnest Pass and landed in the US.
"We came home and filed a flight plan, and we flew in our Cessna," said Darcy. "We flew Friday, July 30, and they welcomed us with open arms in Kalispell, Montana."
She said MP Damien Kurek was helpful and provided the number for the Kalispell airport to see if they would take them, and they had no problem with their flight landing.
"So you can't drive but you could fly."
Darcy said the trip turned out to be an adventure of a lifetime.
They made it to Montana, and Charly attended her program in Polson.
Their trip home wasn't quite as smooth. She said when they came home to Canada, they were required to land in Coutts, Alberta to pass customs. It was a gravel strip.
"It took the Canadian border guards about half an hour to come and talk to us. They drove out to us in a farmer's field," she said. "Because it was hot, by the time they came and met us, our little airplane didn't have the power to take off because it likes cold… the adventure continued."
She said they walked into the Village of Coutts and started asking people for a ride to Lethbridge, so they could rent a car, or have someone pick them up. They found a volunteer to get them to Lethbridge, and their neighbours Wayne and Suzanne Lacher from Morrin took Darcy, Charly, and their dog home. With less weight in the craft, Bob was able to complete the trip early the next day when the weather cooled.
Darcy has been vocal about COVID-19 restrictions, and she says it is important for people to hear there are possibilities even in the current environment of a pandemic.
"Take a chance and see, try to avoid this government silliness."
"I'm sick of being bossed around by the government over this flu… The control they have taken is crazy. We had to fly in our airplane but we couldn't drive, and they accepted us with open arms in Kalispell."
On Friday, August 20, the U.S. announced it is extending restrictions on nonessential travel at their land and ferry crossings with Canada and Mexico through September 21.
window.fbAsyncInit = function() { FB.init({version: 'v2.3',appId: '239957192712646', status: false, cookie: true, xfbml: true}); FB.Event.subscribe('comment.create', jfbc.social.facebook.comment.create); FB.Event.subscribe('comment.remove', jfbc.social.facebook.comment.remove); FB.Event.subscribe('edge.create', jfbc.social.facebook.like.create); FB.Event.subscribe('edge.remove', jfbc.social.facebook.like.remove); jfbc.social.googleAnalytics.trackFacebook(); }; (function(d, s, id){ var js, fjs = d.getElementsByTagName(s)[0]; if (d.getElementById(id)) {return;} js = d.createElement(s); js.id = id; js.src = "https://connect.facebook.net/en_GB/sdk.js"; fjs.parentNode.insertBefore(js, fjs); }(document, 'script', 'facebook-jssdk'));