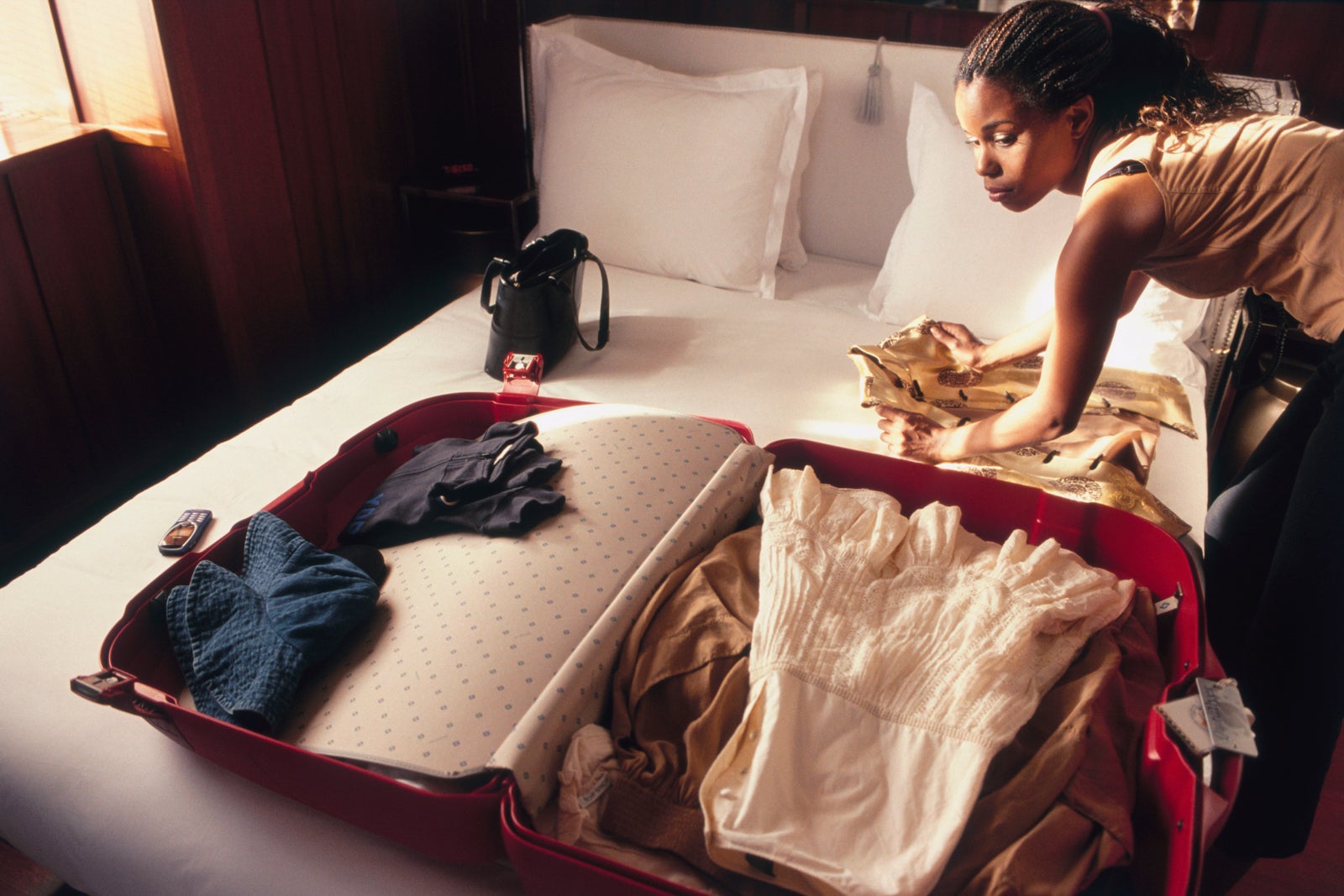 Travel Bag
From portable scales to shoe bags: 10 luggage accessories for your gift list
Consult this list whenever you need an inexpensive gift for the frequent traveler on your list. These luggage accessories make the travel experience easier, safer or a bit more fun. From Van Gogh-inspired luggage handle wraps to pretty world map laundry bags to an accessory that transforms your suitcase into a cup holder, you'll spend just $8 to $40 on these gift items.
Cup holder for luggage
As I waited around the airport on my last trip, I watched a woman buy a cup of coffee, flip open a compartment on the side of her hard-side luggage to reveal a built-in cup holder and stow her drink. I asked about the bag and discovered it was a Wrangler 20-inch carry-on with an onboard cup holder (about $64). That was cool, but I wouldn't necessarily suggest anyone buy a new bag just for the cup holder. It turns out you don't have to with accessories like the Eloptop Luggage Cup Holder that you can add to many carry-ons.
This durable accessory is made of water-resistant Oxford cloth with adjustable Velcro straps. It fits on luggage with dual handles that are at least 5.12 inches wide and no wider than 8 inches. You use the Velcro straps to adjust the snug fit of the cup holder on the handlebars. (Note: You can use this cup holder with "T"-style luggage handles with a single bar.)
One side of the cup holder accommodates two drinks (in cups with a maximum diameter of 3.35 inches), while a zippered pouch on the opposite side can accommodate two phones, tickets or other small items. Two small mesh pouches are ideal for things like a pack of gum, roll of mints, earbud case or other small items. For about $16, this could be a solution for travelers who need to free up their hands while still keeping easy access to drinks as they wheel around the airport.
Related: TPG flew across the US to find the best airport coffee
Collapsible water bottle
More and more airports and public transit centers are installing water stations so travelers can fill their own bottles. This alleviates the need to pay for water and dispose of a single-use bottle. This 22-ounce collapsible water bottle from Nomader has a leak-proof twist cap and is made from shatter-proof silicon. Its materials are free of BPA, BPS, PVC, phthalates, lead and latex.
You can pick up this bottle in various colors — aqua, green, red, orange, purple, gray, black and white — for about $36.
Portable digital luggage scale
If you're the type that loves shopping wherever you travel, you probably return home with more than you left with. That means you've also probably worried a time or two about the possibility of an overweight suitcase at airport check-in on the return trip. This portable scale from Freetoo helps accurately assess the weight of your bags so you can determine if any last-minute shuffling of contents is required before you head back to the airport.
Since it weighs a bit more than 3 ounces, you won't worry about saving room for this baby in your luggage. It can easily tuck into a corner or crevice of your checked bag, carry-on or even handbag. A CR2032 battery, like the one found in many watches, powers this scale.
Sign up for our daily newsletter
The scale's LCD display is large and easy to read. What I like is the fact that once the weight "settles in" during the measurement process, the scale "locks" it in, so you aren't rushed as you do these weigh-ins. The maximum the scale can measure is 110 pounds and it measures in tenths of a pound. It also has a tare function so you can use the scale to weigh a container, then reset the scale to zero and load the container, so you're just weighing its contents.
For the best results, use the scale in one hand to weigh items up to 30 pounds. Use two hands if weighing items from about 30 to 110 pounds. With a 4 1/2-star rating from nearly 22,000 Amazon customers, this luggage scale is well worth the money. It cost a few cents more than $10 when I bought my red scale. The scale is also available in black and silver.
Neoprene luggage handle wraps
OK, I don't need these CM Store neoprene luggage handle wraps, but I sure do like them. With designs from well-known Vincent van Gogh paintings, these are a fun way to add color to your suitcase and make it eye-catching as it comes down the luggage carousel at baggage claim.
The spongy neoprene handle wraps make it more comfortable to grab and lift heavy bags. Each wrap is 5.25 inches long by 5.3 inches wide and closes with Velcro strips. You get five handle wraps in the set for about $12.
Waterproof suitcase protector
Sometimes, you must check a bag or part with it for a short time — even when you don't want to. I use these waterproof PVC luggage protectors in three cases:
When I must check a bag — a nice, new bag — and I don't want it to get dirty.
When I'm embarking or disembarking on a cruise and know that my bags may sit outdoors in the elements for a bit before the porters take them to my cabin or onward transportation. (Trust me, I've seen bags get drenched as they sit on the dock when the skies open up and no one is in a hurry to get them out of the rain.)
When I'm traveling through an airport that has a track record of items being pilfered from bags. While a cheap plastic cover isn't a guarantee that sticky fingers won't get inside the bag, it's an extra nuisance and one that would slow down a would-be looky-loo.
These JenKin luggage protectors come in various sizes to protect 20-, 22-, 24-, 26-, 28- and 30-inch bags. Velcro tabs keep the protectors in place. Some cutouts allow for easy access to the bag's handles.
A few things to note: The handle cutouts might not align with the placement of the handles on your particular bag. And, depending on the size of the protector you order and the dimensions of your bag, it might not fit if you expand the bag to its maximum capacity. Check the protector measurements before you decide to buy. These protectors run from about $10 to $18, depending on the size selected.
Related: 15 great holiday gifts any cruiser will love
TSA-compatible luggage lock
If you check luggage, you may want to add a lock for additional security of your property. If you go that route, be sure to buy a TSA-compatible lock. These locks are available from specific manufacturers to defined specifications so Transportation Security Administration officials can open them using a master key. This is necessary when the TSA feels it needs to inspect the contents of a checked back that's not currently with its owner but instead on the way to or from an aircraft. If you don't want your run-of-the-mill lock cut off your bag, go with a TSA-approved product, such as these from Sure Lock.
The cable-style locks are factory-set to have a 0-0-0 combination, but you can easily set it to any three-digit code of your choosing. Just have a pen ready to set the lock and don't leave it to 0-0-0 or use 1-2-3. Made of zinc alloy with a hardened stainless steel lock mechanism, these tough locks include an indicator that pops up to tell you when your bag was opened after it left your company.
The lock and cable is 4.1 inches long and the lock is 1.3 inches wide. The cable itself is 5.7 inches. One lock costs about $8, two-packs go for about $13 and a six-pack is about $36. Locks come in black, orange, hot pink and electric blue.
Travel-size laundry bag
I had to buy the Kikkerland Travel-Size Laundry Bag because of the world map design. I travel solo for work and this was just what I needed to separate my dirty clothes from clean ones on my short trips. I say short trips because this bag is small, about 22 by 16 inches, and wouldn't hold your laundry from a weeklong trip. But it does the trick for overnights as well as trips of two or three nights.
Made of polyester fabric, the bag has a drawstring at its opening so you can cinch it shut when necessary. It folds up into a small pouch (about 6 by 0.4 by 5 inches) when not in use and weighs a bit more than an ounce. A carabiner clip attaches to a sewn-in fabric loop so you can easily hang the bag on a hook or hanger in your hotel room. One bag costs about $8 while a set of four runs about $20.
Luggage straps
They're not sexy but it's wise to travel with a few luggage straps. They can be invaluable if you have a suitcase zipper malfunction and need an auxiliary method of keeping your bag shut. They also come in fun colors that will help you easily spot your luggage in a sea of suitcases at baggage claim.
These luggage straps come in rainbow, blue, pink and bright green. They're 70.86 inches long by 1.96 inches wide with buckle fasteners. Each strap is adjustable and fits horizontally on cases from 18 to 32 inches or vertically up to 22 inches. This set also comes with four luggage tags in matching colors. A two-pack runs about $8 while a four-pack is about $10.
Waterproof shoe bags
I hate packing clean things next to something that might be dirty, so these extra-large shoe bags are one of my favorite packing accessories. Measuring 17.1 inches long by 10.2 inches wide by 7 inches high, you can stow flats, sneakers, water shoes, sandals, hiking boots and more in these bags. (For large mens shoes, you may need to pack each in a separate bag.) The bags are made of a polyester-composite mesh that's translucent so you can easily see which shoes are in what bag — no need to unzip bags to find what you're looking for.
Note: While the manufacturer claims these bags are "waterproof," I don't think that's accurate. The bags are water-resistant but since each has a zipper, they aren't waterproof. But the bags will keep your shoes safe from water droplets and small spills.
Rotkfst shoe bags are washable so as soon as you return from a trip, take your shoes out of your luggage and throw these bags in the wash. Three extra-large bags go for about $25 while a five-pack costs about $40. The bags come in beige, black and gray.
TSA-approved clear quart-size toiletry bag
This is an inexpensive gift for any new traveler. It solves the problem of how to pack those toiletries in approved containers to comply with the TSA's 3-1-1 rule. Each liquid you bring through the TSA checkpoint must be in a 3.4-ounce or smaller container ("3"), all containers must be placed inside one clear quart-size plastic bag ("1") and each passenger is only allowed one plastic bag ("1").
This Wobe set includes a quart-size clear plastic zippered pouch (7.9 by 6.3 by 2.3 inches), one pump bottle, one spray bottle, one soft tube, two squeeze bottles and two little jars. Fill the containers that are best suited for the products you want to bring on your trip, whether that's shampoo and conditioner, perfume or facial moisturizer. The bottles all have a capacity of 1.8 fluid ounces while the tube accommodates 1 fluid ounce and the jars fit 0.18 fluid ounces each.
To ease the filling process, the set comes with a little funnel, spatula and "pipette" (use it to measure or transfer small quantities of liquid). The bottles are made of hard plastic so it's not easy to squeeze them to get thick shampoo or conditioner. For those items, you may need to mix in a bit of water at your destination to get an easier flow of product. The kit costs about $12.
Pro tip: For added security, top each bottle with a shield of kitchen plastic wrap before closing them with the provided caps. This will help ensure no leaks while in transit. Just remember to remove the plastic wrap before use.
Looking for more travel-related gift ideas?