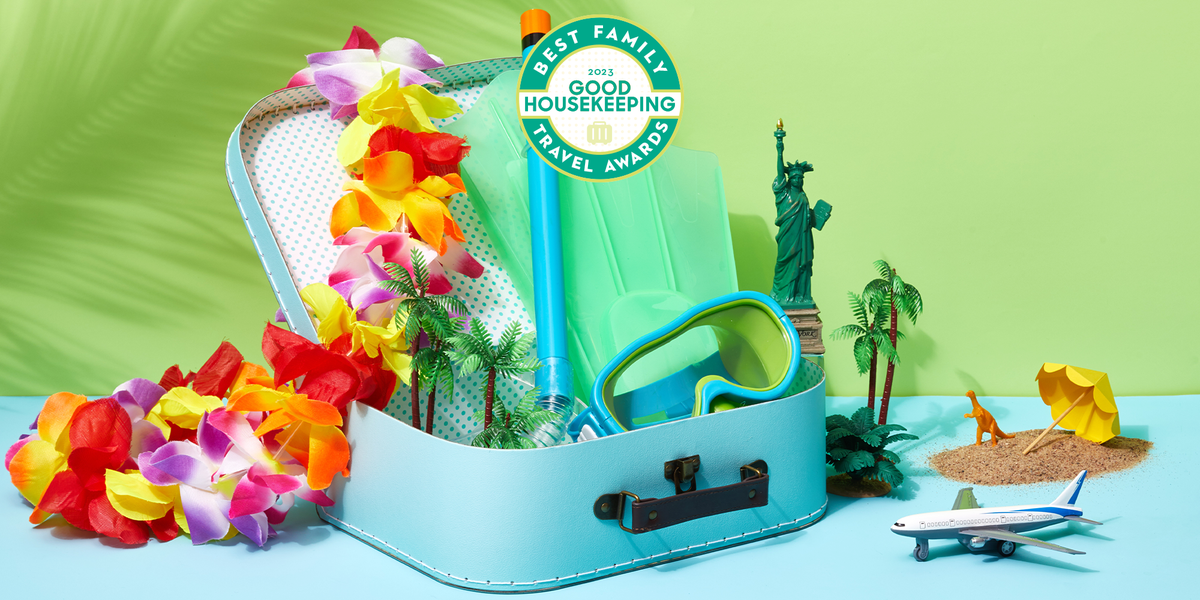 Good Housekeeping's 2023 Family Travel Awards
Nothing beats taking a vacation with the people you love, but making it happen can be a ton of work. That's why the Good Housekeeping Institute launched its first ever Family Travel Awards. Travel experts, product analysts and vacation enthusiasts joined forces to find the best products, services and destinations for every preference.
To help you plan where to go and what to bring, we considered all types of families and all kinds of trips, from snowy mountain retreats to warm-weather escapes and everything in between. Regardless of which adventure you choose, the one thing these nearly 100 winners have in common is that they've all been vetted by our team of experts.
Meet The Judges
How We Tested
Experts at the Good Housekeeping Institute thoroughly reviewed hundreds of submissions before selecting these winners. Overall, we considered attributes such as convenience, value, quality, safety, innovation and inclusion. We also reviewed firsthand feedback from travel experts and real families for each of these recommendations.
Travel Gear | Travel Experience
How We Tested Travel Gear
Our analysts performed evaluations both in our Labs and with consumer testers to get the full picture. For instance, our textiles pros put luggage through the wringer, using a drop tester that releases suitcases from a standard height to check whether they are prone to being damaged. Luggage fabric was placed in our abrasion-testing machine, which rubs swatches against a rough material 15,000 times to check for wear and tear, while hard-sided materials were subjected to manual scratch-resistance tests. Analysts also packed each piece of luggage with a standard load to see how much could actually fit inside. Then 18 consumer testers used the luggage in an obstacle course that included various surfaces to rate aspects like maneuverability, ease of use, comfort and wheel performance. Finally, they brought the gear on road trips and flights to see how it performed in the real world.
How We Tested Travel Experiences
More than 75 testers (often with their families) reviewed destinations, hotels, resorts, cruises, campgrounds, attractions and travel services in the United States, the Caribbean and Mexico. They saw cribs and other kid gear firsthand and weighed in on family activities, pool areas, kids' menus, supervised kids' clubs, room layouts, the check-in process and other features that had the potential to make traveling with children more of a vacation and less of a trip.
They noted the vibe of each place and whether it felt safe enough to allow older kids some independence. They also took notes in relation to sustainability and inclusion, flagging some spots as being particularly welcoming to guests with dietary restrictions, children with special needs and LBGTQ+ families. For travel services such as attraction passes and booking sites, they noted how easy they were to use and whether they allowed for filtering by certain attributes that are important to families.
Last, we surveyed our proprietary panel and reviewed responses from more than 3,000 people who had taken trips in the past two years. They weighed in on their favorite vacation experiences, airlines, hotel chains, rental car providers, rewards programs, booking services and more, often commenting on why they were loyal to a particular brand.

Pricing Guide
To help you choose the best fit, we've included a $ scale in each write-up for a resort or hotel. While many factors, especially seasonality and special events, can affect pricing, we wanted to provide an estimate of the cost for the least expensive category of room for each of our winners. The dollar signs after each description correspond to a typical price range when you book a few months in advance.
For hotels and resorts that aren't all-inclusive, the breakdown is as follows:
$ = Less than $150 per night
$$ = $150 to $299 per night
$$$ = $300 to $499 per night
$$$$ = $500 or more per night
At all-inclusive resorts, food and most activities are bundled into the price. You typically book on a per-person basis, based on a room occupancy that includes at least two adults. The price for a child is usually significantly less than that for an adult. The breakdown is as follows:
$ = Less than $150 per adult per night
$$ = $150 to $249 per adult per night
$$$ = $250 to $399 per adult per night
$$$$ = $400 or more per adult per night
MEXICO & THE CARIBBEAN
HAWAII
FLORIDA
CALIFORNIA & PACIFIC NORTHWEST
SOUTHERN STATES
SOUTHWEST
NORTHEAST
MIDWEST
CRUISES

TRAVEL SERVICES
TRAVEL BRANDS
You May Also Like
October 13, 2022
December 23, 2022
December 22, 2022