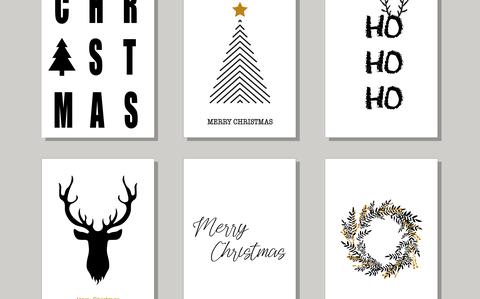 Holiday photo cards: Tradition or dysfunction?
Many of us might remember our mothers driving to stationery stores to peruse boxes of holiday cards, back before the tech revolution brought us digital cameras and printed photo cards. My Mom would select heavy stock Christmas cards printed with Currier and Ives snowy scenes, or cheery plaid bows tied on embossed gold french horns, or leaping white reindeer silhouettes, or sprigs of pine adhered with iridescent glitter mimicking snow.
She bought a dozen or two Christmas cards to give out to her family and dearest friends. Sitting in our sunroom with a cup of hot coffee playing a Johnny Mathis Christmas cassette on one of my brother's abandoned boom boxes, she wrote simple, yet personal notes to each recipient in her perfect first-grade teacher cursive, twinged with her Kentucky lilt. "Let's try camping again when the kids are out of school — what a hoot that was. If only Ron hadn't broken his toe. Much love and glad tidings to y'all!"
A generation later, my holiday card routine is entirely different. Every year, I reluctantly sit down at my laptop and brace myself to endure the soul-crushing process.
First, I peruse several hundred digital photos stored on my phone from the previous year. None of them were printed or framed or placed lovingly in a photo album to be cherished. They exist only in a digital black hole. Every so often, I transfer my phone photos to an external hard drive with more storage than I can fathom. Practically speaking, no human will ever enjoy those photos again.
The task of finding a few acceptable photos to create our annual photo card is tedious and often takes me several sittings. Once I've identified the photos, I must then digitally upload them into an acceptable retail platform such as Shutterfly or VistaPrint to create our annual holiday cards. To make my job more complicated, the photo card companies offer hundreds and hundreds of templates to choose from, each with multiple options for color, size, number of photos, text boxes, fonts, embossing, stock quality, gloss or matte finish and envelope printing.
Once all the selections have been made and photo uploading begins, I enter a second round of mind-boggling frustration, involving spinning digital wheels, loading errors, pixel inadequacies and other technical complexities that make me want to stick a fork in my eye.
Even after I've typed in the unpersonalized salutation "Merry Christmas from The Molinaris" and saved my draft, my task isn't complete. There's another difficult choice to be made — how many cards to order. Back in the day, my mother never bought more than a couple dozen, but today, holiday photo cards are typically ordered in pricey bulk quantities of 60 or 100 or more.
To be fair, photo cards are useful for military families, who acquire scores of fast friends and colleagues in all the different places they've lived and worked. People their families connected with, but can't practically visit. I have to admit, photo cards are a great way to reach across the divide with a picture of smiling faces. Yet, I worry that this trend is stripped of personal connection.
My finger trembles over my laptop touchpad as I debate whether to order 100 or 120 photo cards. At a buck a pop, it's a significant expense, and that doesn't even include postage. I know there won't be time to personalize all those cards. Once the boxes arrive, I'll barely have enough time to print out my seven-page address spreadsheet, stuff and address all the envelopes, peel and stick the stamps, and haul them off to the post office in a reusable shopping bag.
Unlike my nostalgic memories of mom with her hot coffee and Johnny Mathis inking Christmas greetings, my annual holiday card task is drenched in the nog of dysfunction, a sticky mix of reluctance, entrapment, panic and guilt.
So why do I do it? If I skipped photo cards this year, would anyone really notice or care? Probably not, but like so many modern inconveniences in today's chaotic world, I do it because, well … If I didn't, it just wouldn't be Christmas.
Read more at themeatandpotatoesoflife.com and in Lisa's book, "The Meat and Potatoes of Life: My True Lit Com." Email: [email protected]