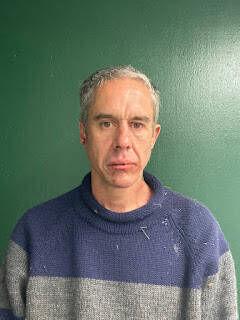 Holiday Weekend Camper Accused Of 'Unprovoked' Assault In Sheffield, Allegedly Biting Through Woman's Artery & Spitting On Police | Local News
A Massachusetts man camping over the holiday weekend in Sheffield is accused of biting through a woman's artery and assaulting state police when they came to arrest him.
Gregory Charles McMaster, 43, of Springfield, Mass., pleaded not guilty in Caledonia Superior Court on Tuesday to felony 1st degree aggravated domestic assault and misdemeanor charges of resisting arrest and assault on a police officer with bodily fluids.
Judge Timothy B. Tomasi set bail at $2,000 and conditions of release to include an order that McMaster only be released into the custody of a court-approved custodian at a court-approved 24-hour curfew residence.
As of Tuesday evening, McMaster remained in pre-trial detention at Northeast Correctional Complex in St. Johnsbury.
"He bit through my artery and he punched me in the head a couple of times and I have bruised ribs," said the alleged victim – a 51-year-old Massachusetts woman – when she briefly spoke up during Tuesday's arraignment.
Police say the alleged incident was reported around 3 a.m. on Sunday, Sept. 5, at 8971 Route 122 in Sheffield and that the investigation indicates the assault was unprovoked.
(The alleged victim's) sweater was covered entirely in blood, and she had a bandage on her right wrist," wrote VSP Tpr. Tyler Davidson in his report. "(Her) forehead was also red and swollen…She advised she and McMaster were camping in their tent when she got outside to go to the bathroom. Upon walking back to the tent, McMaster attacked her, punching her in the temple twice and then biting her right wrist. (She) stated blood started spurting everywhere…"
Troopers located McMaster in his tent "pretending to sleep" and attempted to take him into custody but McMaster allegedly fled on foot followed by Tpr. Davidson who caught up with McMaster and tackled him to the ground. Police say McMaster continued to resist arrest and at one point spit in Tpr. Davidson's face.
Caledonia County State's Attorney Jessica Zaleski asked the court to set conditions of release and bail at $3,000. But defense attorney Sam Swope of St. Johnsbury objected.
Attorney Swope argued that McMaster has very little money and is not a flight risk because he has previously lived in Vermont and has extended family living in the Northeast Kingdom. Swope also argued that any public safety concerns could be addressed by "no contact" orders set by the court to ensure the future safety of the alleged victim.
But Zaleski held her ground and told the court her request for conditions of release and bail were "completely reasonable" given the allegations and McMaster's criminal record.
"With all due respect to Mr. Swope, we feel we're being quite generous here," said Zaleski. "First of all, with the 1st degree aggravated domestic assault charge we could have asked for a hold-without-bail based on the level of violence. There still is quite a history here of failing to appear and violating court orders."
Zaleski also noted for the court that McMaster has a prior criminal record in Massachusetts where he is currently "under supervision" by the state. State police noted in their report that when he was arrested over the weekend a records check showed McMaster was the subject of an arrest warrant issued in 2008 in Windham County related to a similar charge of assault on a protected professional.
Judge Tomasi, who was in the middle of his first day presiding over Caledonia Superior Court, agreed with Zaleski and noted the "unprovoked" nature of the allegations and the "level of violence" was especially concerning to him.
"The state is correct," said Judge Tomasi as he set bail and conditions. "There's multiple failures to appear here on the record, violations of court orders and a lengthy period of arrest warrant status – over ten years."
If convicted of all the charges McMaster faces a possible sentence of up to 17 years in prison and over $16,000 in fines.