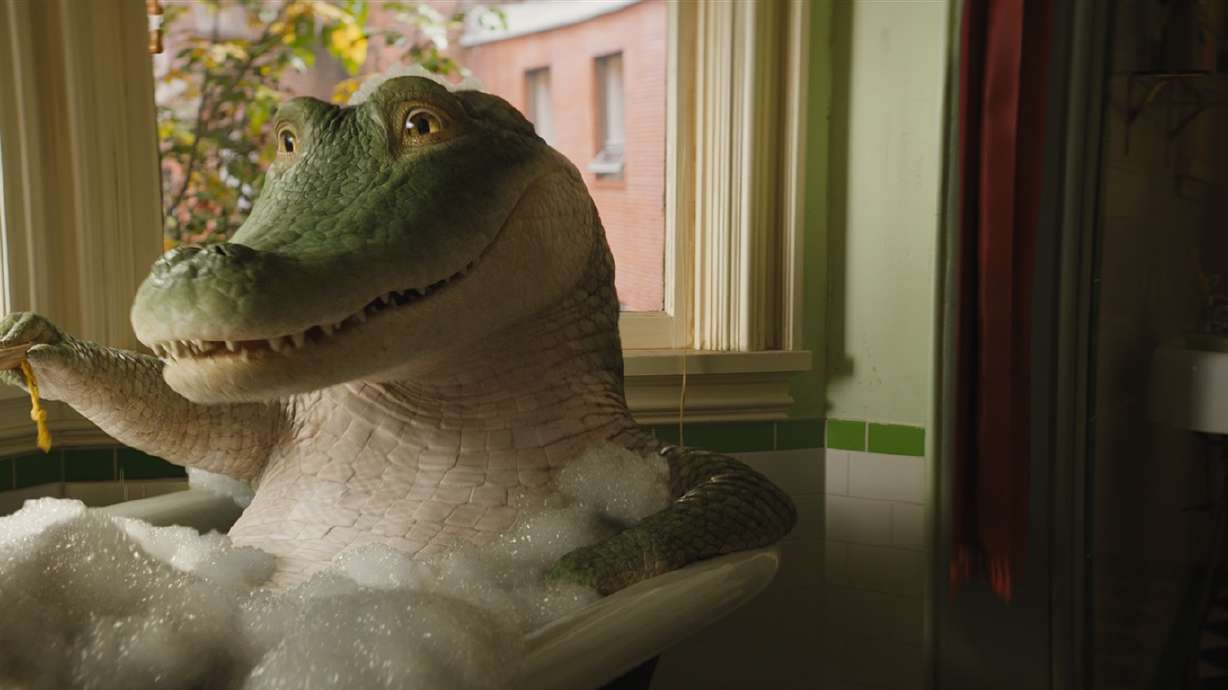 Family Trip
Review: Is 'Lyle, Lyle, Crocodile' good for a family trip to the theater?
Based on the best-selling book series by Bernard Waber, "Lyle, Lyle, Crocodile" is a live-action/CGI musical comedy that brings the beloved character to a new, global audience. (Sony Pictures)
Estimated read time: 4-5 minutes
THE HOUSE ON 86TH STREET — The awards season is upon us and this is the time of year when studios start dropping the films they believe will compete for a coveted Oscar. The first such movie to hit us is from Sony Pictures Animation and its release of "Lyle, Lyle, Crocodile."
OK, that was a lie. "Lyle, Lyle, Crocodile" is not gunning for any Academy Awards. Still, it is trying to entertain families with a singing crocodile. And, guess what? It does.
The movie is based on the best-selling children's book series by Bernard Waber. The movie is far from perfect, and it's not even the best family film I've seen in the last few months. Still, there is a particular reason I liked this movie, and I'll get into that later.
Here are some reasons "Lyle, Lyle, Crocodile" is a fun family movie and others that make it just OK.
The good
It moves
What do I mean by "it moves"? Well, it means two things. The first is that the movie has a good pace. "Lyle, Lyle, Crocodile" knows what it is. It's a tight hour and 40 minutes, and we move pretty quickly from one setup to another. It would be easy for filmmakers to lose their way on this one, focusing too much on one story point, but we didn't. We can quickly get bored in a movie like this but it moves through the story at a consistent clip. Great for kids and not bad for parents either.
The second reason I say "it moves" is because it's impossible to not tap your toe or sway your head just a bit during this movie. I wasn't quite ready for it, but "Lyle, Lyle, Crocodile" is a musical. I probably should have put two and two together when I found our Lyle was a singing crocodile, but the music was a pleasant surprise. I wasn't ready for the musical numbers, but I'm glad they were there.
Some great songs keep you engaged, and looking forward to the following number.
The acting worked
This film has some great dramatic actors, including Academy Award winner Javier Bardem and the underrated Scoot McNairy. Comedy and family fare may not be the norm for these two, but they pull it off well. Especially Bardem, as the down-on-his-luck performer who first finds Lyle.
Some actors with proven comedy chops include Brett Gelman and Constance Wu. The young lead, Winslow Fegley, is also fun to watch and carries most of the film.
Everyone in the cast knows they are in a movie about a singing crocodile, and this will not stand as their crowning achievement in acting, but who cares? This movie is supposed to be fun, and it seemed everyone involved had a good time.
The bad
Lazy humor
There are moments adults will inevitably roll their eyes at, but I didn't mind it much. The concept is absurd, so watching a grown crocodile go out into public in Florida Gators gear and trick the masses didn't feel that out of place in this world.
What bothered me more were the cheap potty-humor gags. This may be personal, but I have never been a fan of that. This kind of humor felt lazy and unnecessary, even when I was a kid — I guess I was a boring kid.
There isn't too much potty humor, but one diarrhea joke is often too many for me.
Should I see it with my family?
"Lyle, Lyle, Crocodile" is not the best family film, but it is fun, and there is enough humor and heart to keep everyone engaged.
I really liked this movie because of who I saw it with. I had the opportunity to take my 6-year-old daughter. Watching her giggle and dance made the movie for me. If you're a softy like me and can't think of many things better than a smile on a chubby little face, this movie is worth taking your family to.
"Lyle, Lyle, Crocodile" was made for her and she loved it. Her joy, a few well-placed jokes and catchy songs made me like it, too.
"Lyle, Lyle, Crocodile" is rated PG for mild peril and thematic elements.
×
Photos
Most recent Arts & Entertainment stories
More stories you may be interested in