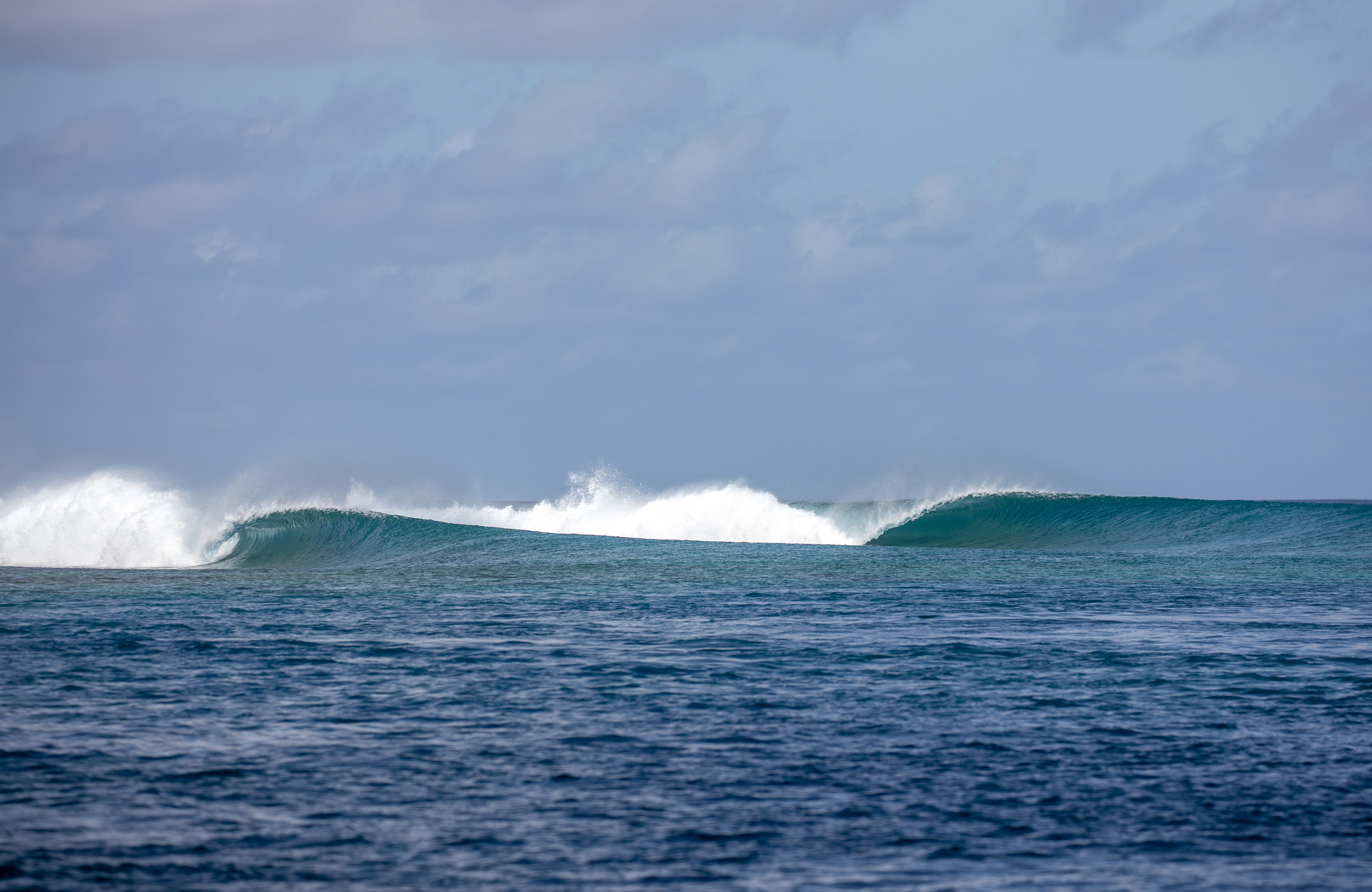 Family Trip
Scoring in the Maldives with Shane Dorian and Family
Long ago, in the days of frosted tips, shin-length boardshorts adorned with skulls and flames, and the inaugural Momentum movie from Taylor Steele, a then 19-year-old Shane Dorian visited a remote and (at the time, for surfers) relatively exotic island chain off the southern coast of India. It was Dorian's first trip to the Maldives.
"It was a million years ago," said Dorian. "I got invited to go on this hardcore surf trip, and I had a lot of fun. I didn't even know where the Maldives were when I was that age. I had to look it up on a map. But I just went. It's such a strange place for US travelers. It's on your bucket list, but it's so far away."
Needless to say, Dorian was charmed. And he's been going back, periodically, ever since. Like two trips he took earlier this year with his family. One was a classic boat trip, chartered aboard the Carpe Vita and motoring from wave-to-wave depending on conditions. And the other was at Kandooma Resort, a land hotel with a perfect, barreling righthander just out front.
"I like to bring my family on trips, and this is an all-time family destination," said Dorian. "Even if your family is all hardcore surfers, or if only dad surfs – there's something for everyone. We did things like snorkeling tours, swimming with sharks, diving at shipwrecks, parasailing…stuff like that. Whether you wanna chill in a hammock and read a book all day, or you wanna be a hardcore surfer, or go out and do activities, it's a fun place for the whole family."
But Dorian's family – his son, Jackson, included – aren't the type to lounge around all day. Sure, in between sessions, they explored the nautical novelties the Maldives has to offer. But their primary purpose there was to score. And score they did.
At Kandooma, "it gets fun a lot, but we got really lucky. It was pretty much all-time when we were there. It was overhead, glassy, and just barreling. It's similar to a Honolua Bay setup. It's not as long, but the best parts of Honolua Bay is exactly what that wave has. It was off its head. Everyone on our trip – all the kids, all the dads – they were just getting standup barrels."
As for the boat, "we had an amazing run of swell and weather. We got two or three swells during our nine or 10 days on the boat. We surfed really fun, empty waves pretty much the whole time. And there's a variety of waves, too. Everything from beginner peelers, to fun high-performance lefts, to hollow reefbreak right barrels. It was awesome."
And speaking of variety of waves, that's one of the things the Maldives is known for. It caters to all types of surfers – whether it's the beginner crowd, the intermediate frother on a fish, or the high-performance tube-hunter.
"On both of the trips we did this year, you could do every type of surfing imaginable," said Dorian. "You could learn to surf on soft whitewash; you could surf soft, user-friendly longboard or fish waves; or you could surf high-performance rippable waves or really hollow waves."
A comparable destination to the Maldives, especially from a boat trip perspective, might be the Mentawais. Although there's a few notable differences, particularly with regards to the power of the waves. Dorian explained:
"The waves don't get as much swell as the Mentawais; it's kind of like a mellower version of Indo. It's kid-friendly, it's got options for everyone. Your typical traveler to the Maldives is like a 50-year-old dude on a fish. That's very typical. Although, when there's an abundance of swell, you do get world-class waves there. The setups are unreal. They're just as good as anywhere in the world. Also, no matter what the wind is doing, there's always a setup that's good."
So, what's the best time of year to hit the Maldives? Surfline Forecaster Jonathan Warren broke it down like this:
"Comprised of about 1,200 islands extending southward through the north-central Indian Ocean, there's pretty much always somewhere in the Maldives offering quality surf on any given day of the year. However, there are a couple big climatology aspects with swell and wind to consider when planning a trip to maximize your chances of scoring.
"These islands receive swell year-round, but expect May through September to be the most active months for more frequent and stronger pulses – the greatest chance for seeing some well overhead surf. This is due to winter storm activity in the South Indian Ocean being at its most vigorous state during that time of year. As the number and strength of these storms diminish in the Southern Hemisphere's summer, the chances for a solid swell will dwindle as well, especially from December through February. However, you still have about a 50% chance for something in the 'fun-zone' (up to chest to head-high or so), but you may need to search a bit through the islands further south."
Basically, there's little chance of getting skunked; but the best bet is May through September.
And one other thing: the Maldive islands are one of the places in the world already seeing the devastating results of climate change and sea level rise. The Maldives has the lowest terrain of any country in the world and, thus, the ocean has been creeping ashore in recent years. Even since Dorian first started going there, he's noticed a change.
"It's interesting," he said, "with global warming and sea level rising, they say that the Maldives are one of the places that your grandkids might not see. I've seen a change in my lifetime since I first started going there. I remember passing islands when I was young, and today, the palm trees are in the water. It's one of those special places on the planet that, if it's on your bucket list, you gotta make it happen."
***
To lock in your trip to surf with Shane Dorian and family in the Maldives, check out bookings for Kandooma Resort here.