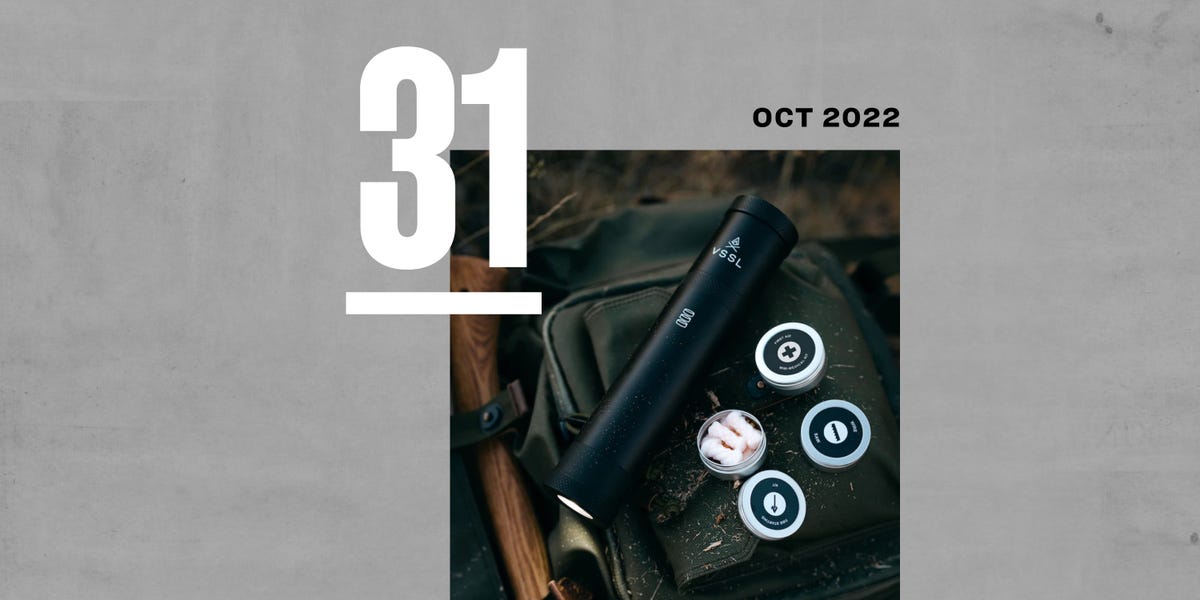 Today in Gear: Start Your Week Here
Happy Halloween – may all your tricks be treats. The spookiest day of the year brings with it a handful of holiday-specific hassles. For one, what to do with our jack-o-lanterns come tomorrow (or next week…)? Experts suggest tossing your pumpkins into the compost pile instead of in the trash. In the landfill, your artful gourds may, over time, decompose atop layers of less biodegradable trash. This will halt their natural decomposition process and cause them to emit excessive, planet-killing methane gas. If you don't have a compost bin yet, digging a hole in your backyard will work just as well. Of course, leaving them near the woods for the neighborhood may be ever better: deer love to eat those 'pumpkin guts.'
Today we're taking a look at lightweight winter boots, an artisanal mezcal and a compact camp supplies kit. This is Today in Gear.
Today in Gear is our daily roundup of all the latest product announcements, drops and news from Gear Patrol Studios. Send your most pressing product questions to [email protected].
Advertisement – Continue Reading Below
Meet the Lounge Set You'll Spend All Winter In
Tommy John's new Zen Waffle Lounge Hoodie and Joggers are designed to keep you cozy all day, all night and all season long. Designed with a versatile stretch waffle fabric, each piece is textured on the outside and soft on the inside. The wrinkle-resistant fabric is also woven with quick-dry fibers that can keep you warm without ever causing you to overheat. Tommy John designed this lounge set for everyone: it's available in men's and women's silhouettes, with three inseam lengths and every size from small to XXL, and in three different colorways.
SHOP NOW
Lightweight and Waterproof, Reimagine Winter Boots with the Aero Insulator
Built with the brand's Aero Form Technology, LaCrosse's Aero Insulator boots ($240) combine neoprene and polyurethane to create a lightweight insulated boot that can deliver all the warmth – and weather protection – of competitor boots, only without the bulk. Designed to stay flexible and keep your feet protected from snow, ice and water, the boots won't crack in cold temperatures. They're durable, lined with fleece and boast a smart winter tread outsole to ensure added grip on wet surfaces. Retailing now for $240, these are winter boots you can count on.
Only 800 Bottles of This Artisanal Mezcal Were Produced
With Día de los Muertos right around the corner, many are rushing to stock up on the best tequilas, mezcals and other agave-driven spirits. One clear standout is Producer Mezcal's Arroqueño. Made with 15-year-old (and older) agave, which is crushed under a bull-pulled stone tahona wheel and fermented in Cypress wood, the resulting spirit is a tropical, fruit-forward liquid with floral notes of citrus rinds and black pepper. It's an authentic Mezcal you'll want to drink well beyond November. The release is limited to 800 bottles retailing at $160 each, but if you can't snatch one fast enough, the brand's Ensamble and Tepeztate are just as reliable.
SHOP NOW
Canned Camping Supplies: Camping Made Easier
VSSL's Camping Supplies Kit ($145) combines 70 pieces of critical outdoor gear in one compact container. Boasting everything from a beeswax candle to a wire saw to 35 feet of fishing line, the kit has everything you'd need to survive – at least for a day or two – out in the backcountry. More importantly, it cuts your packing time in half and ensures you can quickly find all the gear you need when it matters most. While you're shopping, check out the VSSL Catch and Cook Angling Kit ($85), too – it's equipped with everything you need to camp and cook river-side.
SHOP NOW
Three Tech Jackets to Rule Them All
Ten Thousand has just dropped a new Tech Jacket series that includes three outerwear designs built for "protection, performance and style." Each water- and wind-resistant piece is equipped to move with you without chafing and features a two-way zip closure. Built-in back vents and underarm laser cuts add extra breathability, while a cap-style hood ensures the piece stays in place no matter what. Shop the Lightweight, Midweight and Insulated Tech Jackets now for $178 – $278.
SHOP NOW
Advertisement – Continue Reading Below