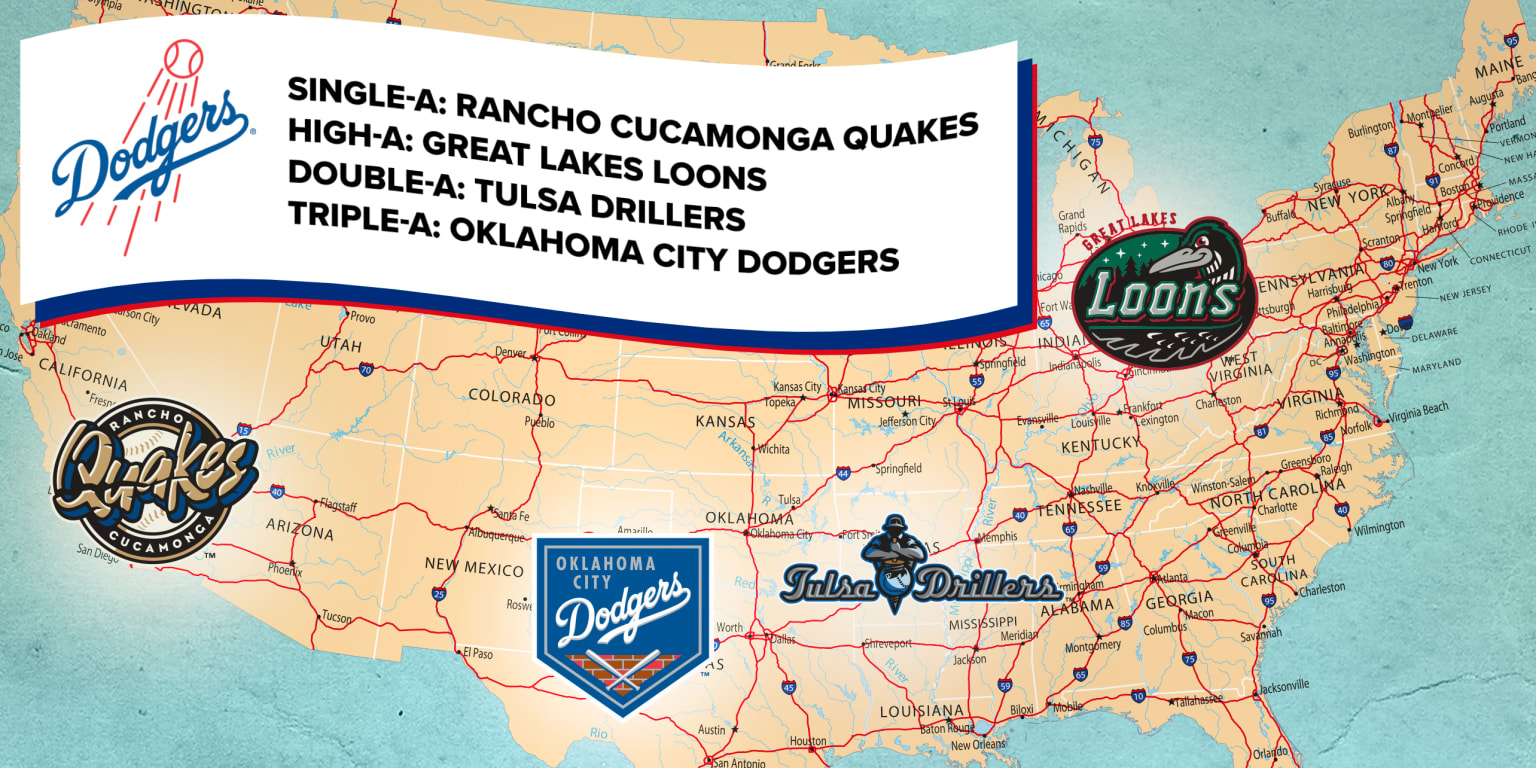 Tour the Dodgers' Minor League ballparks
The Minor League Ballpark Guides series spotlights each stadium across baseball's affiliated ranks. Each edition provides ballpark highlights, from concessions to seating options to in-game entertainment to mascots. Ballpark Guides also take travelers through each facility's surrounding area, encompassing the best places in town to eat or drink, nearby tourist attractions and more. Plan your Minor League Baseball road trip today!
Dodgers prospects breaking into full-season ball start out practically in the backyard of Chavez Ravine, with Single-A Rancho Cucamonga, before embarking on a loop that takes them into the heartland of America and back to California for The Show. It's a journey that shows these Minor Leaguers some unique spots in four great baseball towns along the way, and L.A. fans are sure to have a great time at any and every stop along the way.
Here's a handy guide for every ballpark:
Single-A: Rancho Cucamonga Quakes, LoanMart Field
With gorgeous views of the San Bernardino Mountains and California sunshine, LoanMart Field is about 50 miles east of Dodger Stadium along the I-10 freeway (that's "the 10" in local parlance). The fans here bleed blue, and it's a likely spot to catch L.A.'s stars making rehab appearances alongside some of the system's most intriguing newcomers. Read more »
High-A: Great Lakes Loons, Dow Diamond
Midland, Mich., the home of Dow Chemical, is a scenic town not 20 miles from the shores of Lake Huron, and the Loons offer a chance to dive into an immersive Minor League Baseball experience in a state-of-the-art ballpark complete with striking #baseballskies, fireplaces to keep warm in April and an expansive berm to kick back on midsummer. Read more »
Double-A: Tulsa Drillers, ONEOK Field
Come for the Street Fries, stay for a Minors experience that's both historic (Tulsa is a longtime Texas League franchise) and modern (ONEOK Field features elegant brick-and-metal architecture and stylish field-level seating). Whatever brings you to the yard, the Drillers are ready to ensure a good time. Read more »
Triple-A: Oklahoma City Dodgers, Chickasaw Bricktown Ballpark
This place offers a big league feel at the Triple-A level, with a huge array of seating options and vantages of the action. Before entering the huge brick ballpark, check out statues of Oklahoma-related baseball greats like Johnny Bench, Mickey Mantle and Warren Spahn. Whatever concession items you try, you will later question your decisions if you don't save room for the Churro Sundae. Read more »