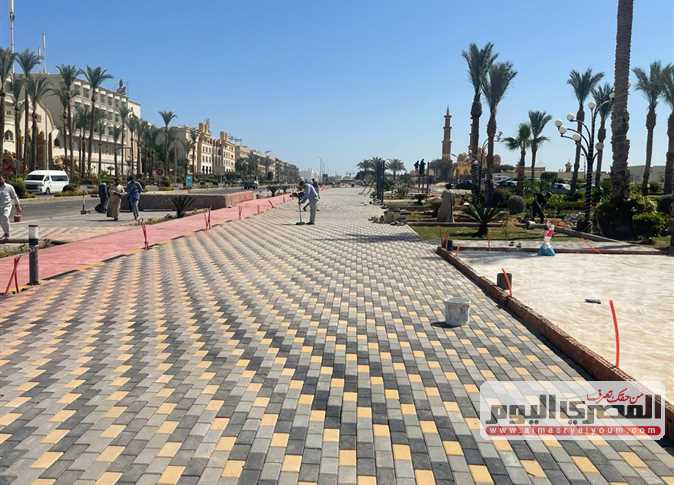 Tourist walkway in Hurghada starts development
Construction work on a tourist walkway north of Hurghada has begun, developed at LE100 million at the expense of the owners of hotels and tourist villages in the north of Hurghada to beautify and develop the area facing their facilities.
It is planned that the new walkway will start from the Mubarak 7 area, measuring eight kilometers to the Hawaii Area and the wind power station. The new walkway includes green spaces, civilized umbrellas, and car parking.
The walkway is set to be inaugurated during Eid al-Fitr, becoming a park for people north of the city and guests of the hotels located in the area.
The head of the Hurghada City Council, Ashraf el-Bey, said that the tourist walkway project will be a green space, a tourist attraction, and a place for walking and cycling.
It will include afforestation in green spaces and distinctive energy-saving and environmentally friendly lighting, he added.
Al-Masry Al-Youm witnessed the work done on the new tourist walkway, and the presence of hundreds of workers landscaping, installing umbrellas, lighting works, electricity, and an irrigation network.
Hurghada tops tourist picks
Top tourist website TripAdvisor published a report on the ten best tourist destinations to visit in 2023 in the Middle East, with Hurghada coming in second place after Dubai.
These choices were made based on the site's readers, according to the best tourist restaurants and beaches.
Hurghada also entered the ranking among the best beaches in the world.
The Governor of the Red Sea, Amr Hanafi, expressed his pride in Hurghada making the list, and noted this wasn't the first time TripAdvisor praised Hurghada as it also made a spot on the top 10 tourist destinations to visit for 2022.
TripAdvisor also ranked Hurghada amongst the top 25 destinations for tourists who love warm, sunny places.
He noted that the list was prepared by the site based on the opinions of tourists through their tourism experiences in these destinations.
Edited translation from Al-Masry Al-Youm