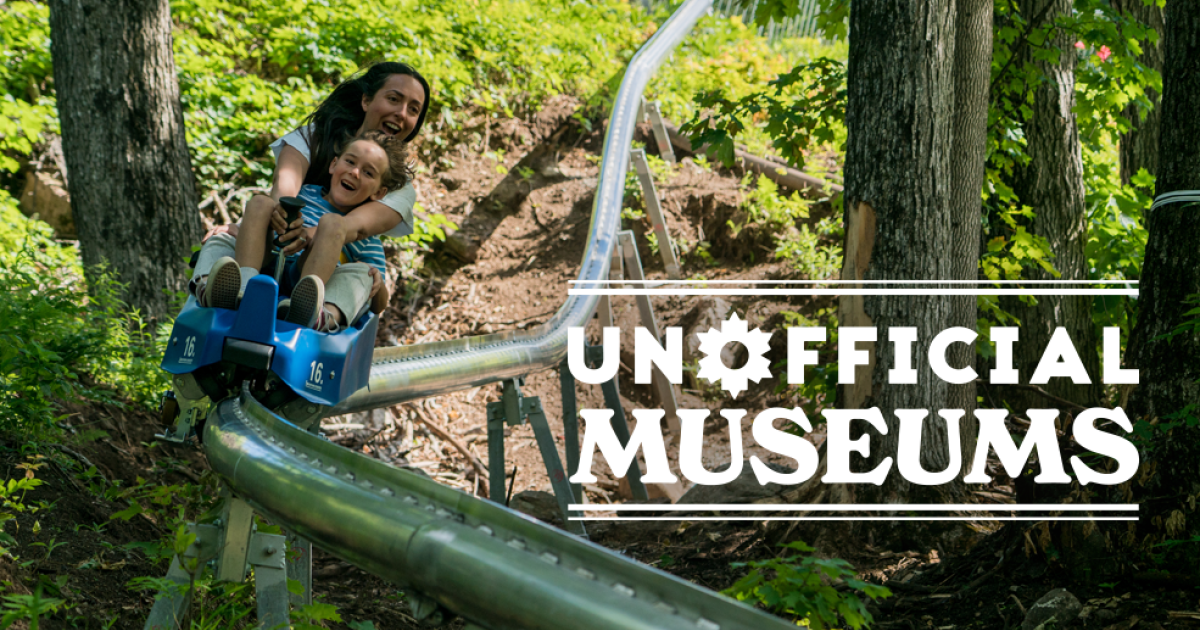 Unofficial Museums – Family inspiration in Ottawa
Mountain coaster – The Unofficial Museum of Twists and Turns
Want a thrilling adventure in the great outdoors, then you and your family definitely have to try out the Mountain Coaster! This incredible attraction offers an exhilarating ride that's sure to leave you all with the biggest smiles on your faces. And the best part is that you get to take in the stunning views of the surrounding nature as you race down the track! Look no further than the Mountain Coaster for an adventure like no other!
The Merry Dairy – The Unofficial Museum of Great Scoops
Found in the Hintonburg neighbourhood is a beloved ice cream shop, The Merry Dairy. Here, they make the most delicious treats made with all-natural, locally sourced ingredients, so you know you're getting the good stuff. They've got all kinds of flavors to choose from, like their famous salted caramel or even dairy-free and vegan options too. As a friendly and welcoming spot, it's the perfect pit stop for a fun afternoon with family. If you're in the mood for some seriously delicious ice cream, then you have to check out The Merry Dairy!
Mādahòkì Farm – The Unofficial Museum of Indigenous Culture
Mādahòkì Farm is a great spot for families looking to experience the joys of farming and fresh produce. Located in the heart of Ottawa's countryside, this family and Indigenous-owned farm offers an amazing variety of fruits and vegetables, all grown with love and care. You and your kids can even pick your own produce and take it home for a truly farm-to-table experience! They also host a range of events throughout the year, from pumpkin patches in the fall to strawberry picking in the summer. If you're a foodie or just love being surrounded by nature, Mādahòkì Farm is definitely worth a visit.
Suzy Q – The Unofficial Museum of Round Treats
Ottawa staple Suzy Q Doughnuts is a true gem! They make mouth-watering doughnuts like you've never tasted before. From classic flavors like vanilla and chocolate to more creative options like maple bacon and raspberry lemonade, there's something for everyone here. The cozy and welcoming atmosphere of the shop makes it the perfect spot to treat your kids to something tasty. Once you've tried a Suzy Q doughnut, you'll want to keep coming back for more.
Zak's Diner – The Unofficial Museum of Over Easy
Zak's Diner is a classic spot for families looking for delicious comfort food in Canada's Capital. They serve up all your favorite diner classics, from burgers and fries to milkshakes and pies. The decor is bright and cheerful, with fun retro touches that make you feel like you've stepped back in time. It's the perfect spot for breakfast, dinner and everything in between. If you're in the mood for the perfect family-friendly diner food, Zak's Diner is the place to be!
RentABike – The Unofficial Museum of Choose Your Own Adventure
Explore the city of Ottawa in a fun and eco-friendly way with RentABike! This awesome bike rental shop has everything you need to enjoy a leisurely ride around the city. They've got a wide variety of bikes to choose from, including electric bikes for those who want an extra boost. Renting a bike is a great way to see the city of Ottawa with your family at your own pace.
Escape Manor – The Unofficial Museum of Riddles
Take part in an exciting and challenging adventure for the entire family at Escape Manor! They offer a variety of different escape rooms that are perfect for anyone who loves puzzles and challenges. Whether you're a seasoned escape room player or a first-time enthusiast, you and your kids will have a blast trying to solve the cleverly designed puzzles and clues. The rooms are all themed differently, so you can choose the one that suits your family's interests the most. Get ready for an unforgettable adventure at Escape Manor.